There is non stop press coverage questions whether there is a bubble in the real estate market, discussing the severe lack of inventory, timber shortages, labor shortages, and more, but how does all of that really affect affordability? Can you guess the last time homes were this affordable in The Triangle? Are you under the impression that homes are overpriced right now? Homes are more affordable now than they have been since 2016. Let's dive into some statistics on the affordability of home buying, RIGHT NOW in The Triangle.
Home prices are appreciating and prices have been steadily, arguably rapidly; rising in nearly all domestic markets. When we hear prices are going up, we immediately think houses are becoming unaffordable and as Realtors, we hear questions such as, "What if we are in a bubble?", "What if I am buying at the height?" These are reasonable questions and ones buyers should discuss with their Realtors as every market is different and there's no single answer. But in terms of actual affordability (as opposed to price) the current low mortgage rates are actually making homesmore affordable.
According to the Mortgage Monitor Reporthome prices have risen for the past 97 consecutive months, but near historic low mortgage rates make home buying as affordable as in 2016. Here are the broad overall numbers. Right now, 19.8% of the median monthly income is required to make a mortgage payment on the average price home, assuming a 20% down payment and 30 year mortgage. This is down 5% from the average of 25% in 1995-2003. This means more home for your money, more affordable. Even compared to a year ago; average home buyers can afford $32,000 more for the same monthly payment.
This should be comforting news to those first time home buyers or buyers in The Triangle area. Buyers this fall are able to afford 10% more home than they could have a year ago with the same monthly mortgage. It is less expensive to borrow money, making homes more affordable over the lifetime of your loan. In fact, below is a map of affordability by State and North Carolina follows the nationwide trend of affordability.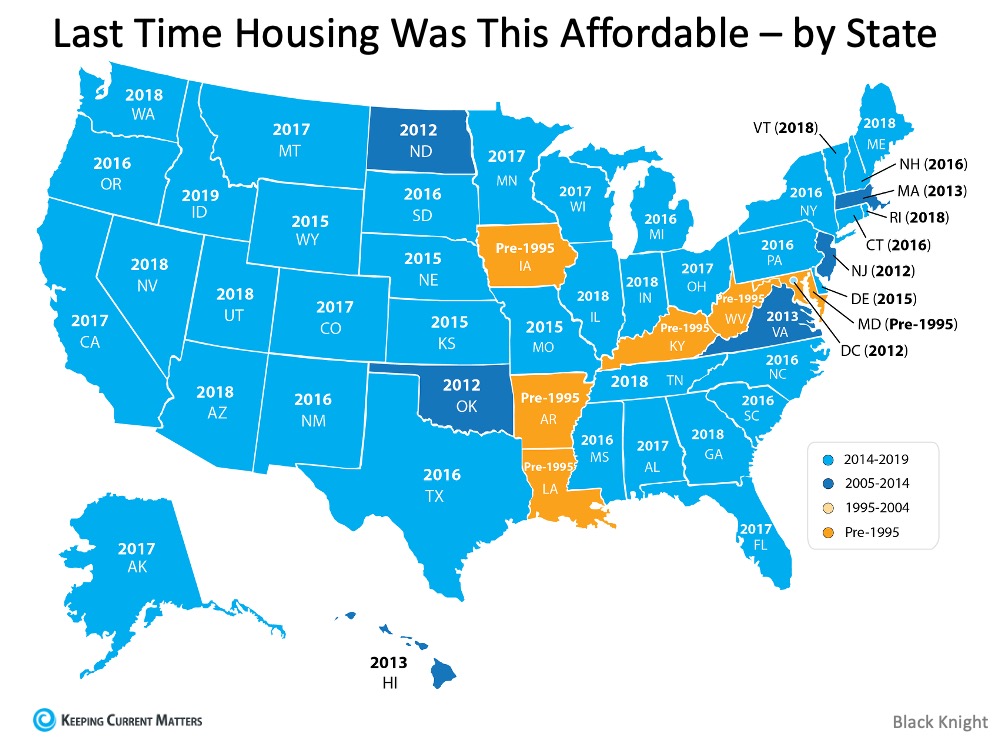 Is it or Isn't it The Time to Buy
However, Are Homes Really Less Affordable if We Consider Equity?
In arecent post, Odeta Kushi, Deputy Chief Economist at First American, offers a different take on the financial components of housing affordability. Kushi proposes we should at least consider the impact equity build-up has on the affordability equation, stating:
"For those trying to buy a home, rapid house price appreciation can be intimidating and makes the purchase more expensive. However, once the home is purchased, appreciation helps build equity in the home, and becomes a benefit rather than a cost."When accounting for the appreciation benefit in our rent versus own analysis, it was cheaper to own in every one of the top 50 markets
In terms of affordability, now is a great time to take advantage of the low mortgage rates and increased buying power. Locally the challenge remains one of supply and the broad consensus from Realtors, Lenders, and Builders we've polled indicates that they believe this will likely remain the case for several more years for the reasons listed below.
Growth
Overall the Research Triangle's population has been steadily growing since 2015 at an average rate of 2%. The State's Office of Budget and Management expects this to continue for the next 6 -10 years and possibly to accelerate as numerous top tier Fortune 500 companies either open or expand existing facilities throughout the Triangle.
Desirability and Affordability
People are drawn here for a wide variety of reasons in addition to a booming economy. For many years now national publications have pointed out that in comparison to other east coast metropolitan areas such as Charlotte, Richmond, Washington DC, Atlanta, Charleston etc. real estate prices in the greater Research Triangle area are much lower. In addition the Triangle area offers top notch medical facilities, universities, a booming arts and food scene, major airport and easy access to both beaches and mountains for the outdoor enthusiast.

If you're on the fence about whether to buy or rent right now, let's connect so we can determine if the equity increase in our local market should impact your decision.

Posted by Larry Tollen on
Tags